6:23 pm: We're in a rockin' Best Western and and apparently Fox and the Emmys are taking steps to go green with a solar paneled red carpet?
Never mind. Alan Cumming asks why girls have to have all the fun? Good question.
Also my mom wants to know if her "lame comments" will be included. Yes.
6:28 pm: Fox is such a lowbrow affair, even with our good friend Nancy whatshername doing celeb interviews.
Vanessa Marano aka Bey from Switched at Birth is maybe more charming in real life? She just made an ASL sex joke.
6:35 pm: Who IS this dude with the announcer voice? He seems both pleased and out of place. But he's better than British lady and her Justin Theroux-esque sidekick.
7:41 pm: I'm excited I just got to see the first trailer for Dolphin Tale. I actually wondered if that movie was real.
For some reason it's this season that I'm most reminded that Fox is reaping the rewards of the Emmys with all this advertising for fall tv.
Sophia Vergara is Columbian, did you know?
Rob Lowe and family are klinging to each other for dear life.
7:44 pm: Nancy and Kate Winslet rocking the red. Remember when the British tabloids stalked her for being fat?
Mark! His name is Mark, and he's fumbling over Timothy Olphant and his sexy factor. Olphant is going lightly grey it's a good look. They're giving Mark little screen time, and with good notice – he's terrible.
7:50 pm: Greg Kinnear here, reminding us that The Kennedy's got nominated for things.
Laura Linneay kind of looks like she actually has cancer. Face/hair good, rest is just a long black shirt.
LL Cool J wearing an "applejack hat." Now we know what these are called. His favorite show is about gator hunting.
Oh dear god! I love Melissa McCarthy's color, but the patchwork seams are terrible. She's really just been nominated for Bridesmaids for Mike and Molly, we all know.
8:05 pm: This intro is actually something. I wish all of tv lived in the same building.I do not wish that every award show would keep doing this retro intro thing is the thing these days.
Mom: What is Jane Lynch wearing? She looks terrible.
I wish I was at finger pistols with Jon Hamm.
They're taking this a cappella thing FAR. How did they get these stars to agree to this?
8:12 pm: Happy Endings was nominated?! Mom: No, this must be a montage of everything. Nice editing though.
The Jimmys need to step near the mic.
8:16 pm: Julie Bowen wins for Modern Family. Mom says "The boob thing is really bad. She should have worn a turtleneck.
Julianna Marguiles saves the day with a joke about how she's the funniest person on tv. She is!
Ty Burrell aka Phil wins! The onscreen married couple won omg so cute. He wrote this speech ahead of time, but it was so good and well done.
8:29 pm: So Modern Family is just going to keep rocking hmm. But this director is sexy. Christopher texts me: wtf.
"But most of all, I want to thank my modern family."
Zooey Deschanel looks like a prom queen gone ary.
The next guy that wins for Modern Family's wife just gave the camera the best look! She did it again!
Is no one getting music-ed off? Mom starts doing the Jeopardy theme song.
8:43 pm: Kate: Charlie Sheen is wearing a wig, methinks. Mom says, "Charlie Sheen's personality looks likes a wig."
All the ladies getting together on stage. Sisters are doing it for themselves!
Melissa McCarthy thanks a man by saying "you're like a handsome cheerleader in a suit."

8:57 pm: Why is Kim K here? Reality tv isn't just reality?
Let it be known I am not drunk, my cup just ran away from myself. OK MOM?!
9:02 pm: Kaley Cuoco looks so classy.
Why does The Amazing Race always win? No one watches…
9:07 pm: It's the lots o' male writers portion of the program.
This Dior commercial with a fake Monroe and Charlize Theron is weirdng me out.
Mom is more upset by the one with Samantha from SATC wearing a muumuu even though she "can't believe it's not butter."
9:14 pm: Mom is groaning at Michael Bolton. But she thinks suits Lonely Island are wearing make it alright.
Kristen Wiig's boobs are out to play, but they should go home.
Anna Pacquin looks great. Scott Caan is still short.
9:28 pm: Friday Night Lights better win.
It did! Touchdown! Clear eyes full hearts can't lose!
9:33 pm: What an amazing selection of dramatic women. And why is Archie Panjabi sitting next to House?
Elmore Leonard's show lady wins. "I love you Gram, even though you killed me." Her husband is trying not to cry on national tv.
Is Velveeta trying to be Old Spice?

9:43 pm: Just because Martin Scorsese is Martin Scorsese doesn't mean he's funny.
However Kelly McDonald has a nice dress on.
I guess he's a good actor, but I refuse to be into Game of Thrones.
9:53 pm: Anderson Cooper's fake jersey expose is great.
This category was really like sophie's choice. But win for Juliana.
9:59 pm: Kyle Chandler = best husband ever.
10:10 pm: Oh the Brits. Downton Abbey wins, KB enjoys.
Of course Maggie Smith isn't here.
10:18 pm: The shoutouts to the accountants is such a flashback to another age.
The Kennedy's better hold that win close to the chest.
Mildred Pierce is not feeling good. You can't win against The Brits.
We've hit the "in memoriam" portion of the program. Are these sing off rejects? The dry ice is a nice touch. Mom: also why is this one guy wearing a leather jacket? Didn't someone tell him to get with the program.
10:33 pm: Canadian Tenors. Let's plug them, because no one knows who them were.
That's Guy Pearce's wife? Remind me what she's been in.
Mom: Woah he's a hunk.
Are Gwyneth and Claire Danes in a fight? The camera keeps cutting between them.
Kate Winslet seems to be more confident on the red carpet than now.
Mom: can we just talk about how her cleavage is so much nicer than that first woman's?
Gloria Vanderbilt looks like she's been embalmed. Note: she's 87.
10:49 pm: Mom: I feel like I've watched all these shows myself now.
Also this tire commercial- I'm over it.
Mom on The X Factor: sometimes I feel like I'm not part of America.
Modern Family wins again. It's just so safe, ya know?
As 2010 draws to a close, there are many things that it could be remembered for — the year of the Red Tide, of Wikileaks, of LiLo going to jail, of Glee (was that this year?). Inspired by today's announcement of Scarlett Johansson and Ryan Reynolds separation and yesterday's of Zac Efron and Vanessa Hudgens break-up, I've decided to nickname 2010 "The year of the celebrity break up."
Famous people – for reasons too numerous to enumerate – seem to get married and divorced at rates higher than the national average. But this year seemed particularly devastating for celebrity couples. And for reasons too embarrassing and numerous to enumerate, I take each break up as a personal blow.
Below are a few break ups from 2010 with a rating as to how upsetting I found said break-up. 1 is a break up I saw a mile away, 10 made me cry into my pillow.
Scarlett Johansson & Ryan Reynolds – 3


I never really believed they were married. There's all of one photo of them on the internet together. I respect they wanted to keep their relationship private, but it's hard to be invested in a relationship you know nothing about. And again – privacy and everything, but by not showing up at each other's events, they also weren't supporting each other in their endeavors.
Zac Efron & Vanessa Hudgens – 5


This was always going to happen sooner rather than later. He wants a serious career and is talented. She doesn't work that much (let's leave it at that). Yes, they were gorgeous together. Yes, they probably had great sex and lots of it. Their relationship made sense in the HSM days, but more and more as Zac seemed to wanted to graduate out of that phase, it was clear their love wasn't forever.
Eva Longoria & Tony Parker – 3


There were always rumors of him cheating on her. And as Kate always points out, the sportstar/actress marriage is a difficult one. Plus, she's a bit older, and always struck me as more interesting than he is – or maybe more interesting than his teammate's wives. I'm very sorry for Eva, but honey, you can do better.
Editor's Note: In college, a sort-of friend's Dad was an orthopedic surgeon, and Tony Parker's Grandma was his patient. He reported that Nana was none too pleased with Eva, calling her "too old" and "a slut."
Blake Lively & Penn Badgley – 7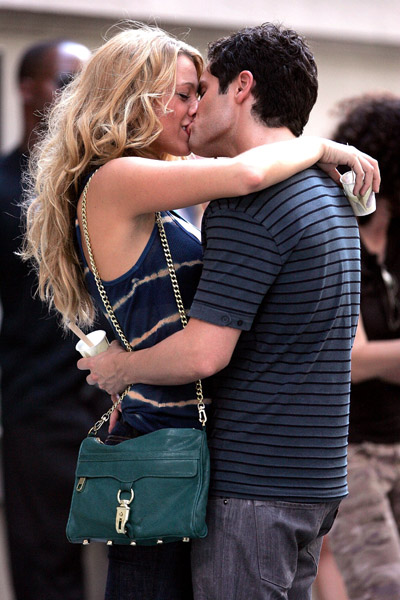 Like Zac and Vanessa, these two are young enough I didn't necessarily expect them to stay together forever, and yet…..There were all those photos this summer of them making out and holding hands. They are both still on Gossip Girl and always look so cute together on set. Plus, I can't separate them from their Gossip Girl characters who are CLEARLY meant to be together, AND always wind up together.
Kate Winslet & Sam Mendes – 9


This one still floors me. They were married for long enough to make me feel secure and stable in their coupling. They were collaborators. They lived in London and New York, somewhat away from the stress of the paparazzi. They have kids. I just…I don't know what happened here.
Patricia Arquette & Thomas Jane – 8


Maybe it's because I think of them as how the Go Fug girls depict them, but they just seemed so in sync. They are both obviously nuts (and by obviously I mean the way they dress and carry themselves) and nuts in a similar way. He seems a little off in a kooky way and she has an intensity that reminds me of the crazy old lady next door. I thought they were kindred souls, two free-spirits in a town that otherwise puts a lot of value on polish.
Courtney Cox-Arquette & David Arquette – 6


Yes, their marriage was always a little surprising, but they'd made it this far. They have a cute kid. He seemed okay with JenAn as the third wheel in their marriage and life. This one makes me sad because I'll always remember the credits of the Friends episode after they got married where they added Arquette to everyone's name.
Bristol Palin & Levi Johnston – 1


I mean, yeah. Was anyone surprised by this one?
Editor's Note: I was! I thought their love knew no bounds. Except that they looked weirdly related…
Al Gore & Tipper Gore – 10


Kate and I both find this one too painful to talk about.
Be warned: If Ben Affleck and Jennifer Garner ever call it quits, I'm quitting celebrity culture.